A brief history and intertesting facts about Castlebellingham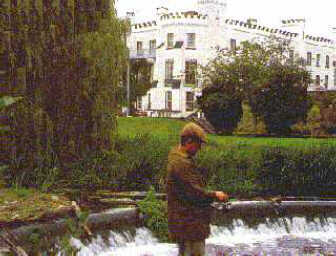 Castlebellingham in county Louth, Ireland, has served as one of the ancestral homes for Bellinghams since the seventeenth century. It was purchased and built somewhere around 1660 by a Henry Bellingham who was a cornet in the Army during the Civil war. He purchased the lands of Gernonstowne, Louth, Ireland from a fellow soldier who had been granted them in lieu of arrears of pay. The purchase was confirmed by King Charles II.
There is some variation on the spelling of Gernonstowne. On various maps and other documents it is spelled Gernonstowne, Gernonstown, Gernon's-Town, Gormanstown, Germanstown, Garlandstown, Garland, etc.
It was not called for Castlebellingham for at least forty years after the purchase. The name does not appear on any document before the year 1700. About 1710 it began to appear in journals and other sources to be called "Castlebellingham".
The castle has a rich history. It was occupied by troops and burned down in the fall of 1689 by King James II in revenge for Colonel Thomas Bellingham being a guide for his enemy, WIlliam III, prior to the Battle of Boyne.
Over time Castlebellingham became known as the most important gathering point in the county. Fairs were held there every year. A church was constructed next door and graveyard with a family vault was built. The Bellinghams became the most powerful and influential family in the county. For over a hundred years a Bellingham held the seat in Parliament for county Louth.
Records also note Castlebellingham for having "the best malt liquor" in Ireland. Apparently a brewery was built on site about 1770 and belonged to an O'Bryen Bellingham. For a number of years a brewery partnership ran their liquor business.
Castlebellingham was the ancestral home of the Baronet until about the late 1800's when it was eventually turned into a hotel called the Bellingham Castle Hotel which remains today.
---
Get a GoStats hit counter